Product name:LINGMEI eswt treatment wave therapy shockwave physiotherapy machine
Instruction with shockwave physiotherapy:
A shockwave is defined as a wave with a rapid increase of increase of pressure within a very short time and then having a gradual decrease of pressure with a small negative pressure phase. shockwave is aimed at the affected area that are the source of chronic pain, the influence of the shockwaves causes to the dissolution of calcium deposits and leads to better vascularization. The after-effect is relief from the pain.
Shockwave has the following effects:
> Cellular: Increase in cell membrane transmittance by improving ionic channels activity, stimulation of cell division, stimulation of cellular cytokines production.
>Reproduction of vessels in the area of tendons and muscles: Improvement of blood circulation, increase in concentration of growth factor beta1, chemotactic, and mitogenic effect on osteoblasts.
>Effect on nitrogen oxide system: Bone healing and remodeling.
>Improvement of micro-circulation and metabolism.
>Dissolution of calcified fibroblasts.
>supports the production of collagen.
>Reduction in tissue tension
>Analgesic effect.
Working handle: 
both model adjustable frequency:the host screen and digital handle.
digital handle make the operation more easily.
the handle records shoot number.
Don't need the pedal plate.
Match 7 work heads,professional ED heads 2pcs.
the handles and work treatment heads:
ED treatment heads:
What does shock wave physiotherapy:
Shockwave therapy can be effective on a wide range of soft tissue and bony conditions. Here are some examples of conditions where shock wave has effectively treated and restored normal function:
1.Plantar fasciitis
2.Shoulder pain, e.g. calcific lesions of the rotator cuff and bony spurs
3.Lateral epicondylitis (tennis elbow)
4.Medial epicondylitis (golfer's elbow)
5.Patellar tendonitis (jumper's knee)
6.Tibial stress syndrome (shin pain)
7.Achilles tendonitis
8.Hip pain
9.Heel pain, heel spurs
10.Chronic neck dysfunction
11.Chronic erectile dysfunction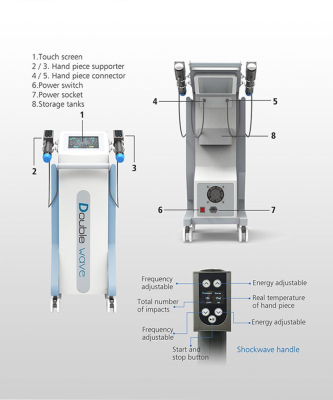 Advantages of shock wave therapy:
1.lightest and most refined
2.new electromagnetic shock wave
3.new digital hand piece with lcd screen.
4.new heads for ED therapy
5.new intelligent programming
Technical parameter:
| | |
| --- | --- |
| Model | SW2 |
| Product key | shockwave physiotherapy |
| Voltage | 220V/110V 50Hz/60Hz |
| Energy | 60-200mj |
| Frequency | 1-16Hz |
| Handles number | 2pcs |
| work heads number | 2pcs/unit handle |
Applications with eswt shock wave treatment:
1.  1.By the targeted application of the shockwaves, stress to the surrounding tissues is quite insignificant;
2.The body not burdened by pharmaceuticals, except the short-term effect of local anesthesia if used;
3.The possibility of preventing the necessity of surgical intervention and its relevant hazards;
4.For some indications, such as tennis elbow, there is really no other effective treatment.
More product pictures with shockwave physiotherapy: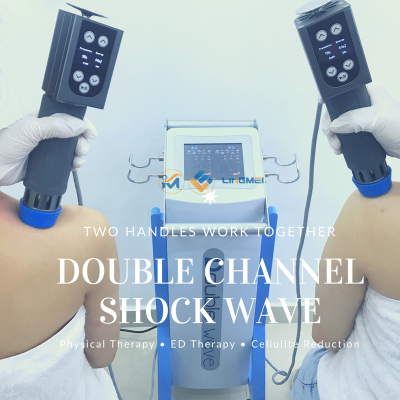 Extracorporeal shockwave physiotherapy:
What is extracorporeal shock wave therapy?
Shock wave therapy is a noninvasive method that uses pressure waves to treat various musculoskeletal conditions. High-energy acoustic waves (shock waves) deliver a mechanical force to the body's tissues.
What signs indicate this therapy is needed?
Shock wave therapy may treat conditions such as degenerated tendons (Achilles tendonitis), heel pain (plantar fasciitis) and tennis elbow (lateral epicondylitis).
When should I avoid this therapy?
Complications are infrequent with shock wave therapy. People who have poor sensation (neuropathy) or hypersensitivity in the target area should not have this procedure.  Open sores should also be avoided. Shock wave therapy is not used in patients with heart conditions or seizures. It should not be used during pregnancy. This should be discussed with your physician before undergoing the procedure.
General Details of Procedure
A noninvasive probe is applied to the skin. An electrical charge creates an energy wave that is focused on the area of concern. The shock waves create a force on the tissues that may induce healing. It's not clear why this approach to healing works for some people, but it may be that shock waves cause inflammation and improve blood flow to encourage the body to repair and heal itself.
Specific Technique
Shock wave therapy is an outpatient procedure. A probe is placed on the skin after a gel is applied to help conduct the shock waves. High- or low-energy waves may be used. High-energy waves may cause pain and require a local or regional anesthetic. Low-energy shock wave therapy often is performed without anesthesia. Therapy is more successful with active patient participation where the patient tells the therapist whether or not the probe is at the area of pain. One or more treatment sessions may be needed.
What happens after the procedure?
Patients typically bear weight after treatment. Patients are advised to reduce the level of physical activity for one to two weeks after treatment. Shock wave therapy may give good outcomes for some tendon problems or chronic degenerative conditions.  Examples include Achilles tendinitis and plantar fasciitis.
Potential Complications
The main complications are pain and hypersensitivity at the site of treatment. These problems typically resolve with time. Pain and disability may persist when shock wave therapy is not successful.
Frequently Asked Questions
Is this a substitute for surgery?
Shock wave therapy is a noninvasive treatment that can help avoid surgery. Treatment responses may vary.