Product name:sw7 acoustic wave electroshock therapy machine for plantar fasciitis
Extracorporeal shock wave treatment  (ESWT) is a treatment used in physical therapy, orthopedics, urology and cardiology.The shock waves are abrupt, high amplitude pulses of mechanical energy, similar to soundwaves, generated by an electromagnetic coil or a spark in water. Similar technology using focused higher energies is used to break up kidney and gallstones, and is termed lithotripsy. "Extracorporeal" means that the shockwaves are generated externally to the body and transmitted from a pad through the skin.
Medical treatment of electroshock therapy for plantar fasciitis:
Extracorporeal shockwave therapy is used to treat a growing number of tendon, joint and muscle conditions. These include tennis elbow,where results in double blind studies are reported as excellent; chronic tendinitis of the knee and shoulder rotator cuff pain, achilles tendinitis,hamstring tendinitis and plantar fasciitis have also been treated successfully.
The above conditions are often difficult to treat using other methods and can become chronic. With ESWT patients report reduced pain and faster healing, without significant adverse side effects. However, the treatment has proven challenging to verify categorically in large controlled studies, in part because the therapist and patient are aware whether or not they are in the treatment cohort or the sham cohort. ESWT is also used to promote bone healing and treat bone necrosis. It is an effective alternative to surgical treatment of non-healing fractures.
ESWT is used for wound healing and has shown positive results in short-term and long-term outcomes in diabetic patients suffering from foot ulcers.
Chest pains associated with heart disease, known as angina have been treated successfully with ESWT. Studies have shown that the shockwaves promote the growth of new blood vessels or revascularization.
Since 2010 shockwaves have been used in urology, to treat chronic pelvic pain syndrome and erectile dysfunction. Unlike drugs, ESWT is non-invasive, does not have side effects, and promotes long-term healing. There are a growing number of double blind sham controlled studies that show success rates of up to 80%.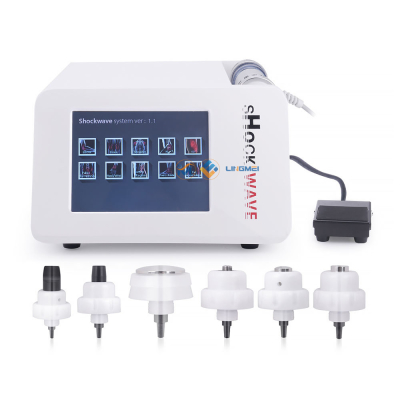 Physiological mechanisms with electroshock therapy for plantar fasciitis:
Shock waves stimulate angiogenesis (new blood vessels) and neurogenesis (new nerve cells).The exact physiological mechanisms at this stage are poorly understood, but it appears that the cells undergo microtrauma which promotes the inflammatory and catabolic processes that are associated with removing damaged matrix constituents and stimulating wound healing mechanisms.
Features of electroshock therapy for plantar fasciitis:
1. High effectiveness,fast relieve pain
2.Noninvasive,no anesthetic,convenient and fast
3. Each nursing only 20 minutes,5-10 nursing each session
4. Widely applied to different soft tissue treatments
Applied range of electroshock therapy for plantar fasciitis:
1.Tennis elbow
Painful inflammation of the tendon attachment on the lateral elbow
2.Shoulder pain with or without calcification
Painful limitation of shoulder movement
3.Golfer's elbow
Painful inflammation of the tendon attachment on the medial elbow
4.Bursitis trochanterica
Painful periostitis of the hip
5.Patella tip syndrome
Inflammation of the tibial edge due to excessive strain
6.Tibial edge syndrome
Inflammation of the tibial edge due to excessive strain
7.Achillodynia
Painful irritation of the achilles tendon
8.Painful heel
Painful,mostly chronic inflammation of the heel
9.Inflammation of the tendon attachment
Painful inflammation of tendon attachments due to overexertion or improper strain,or due to degenerative processes
10.Acupuncture points
Pain therapy through that treatment of acupuncture points
11.Painful trigger points
Acute and chronic pain in the back,shoulder,neck,etc.due to permanently shortened and thickened muscles
More photo of electroshock therapy for plantar fasciitis: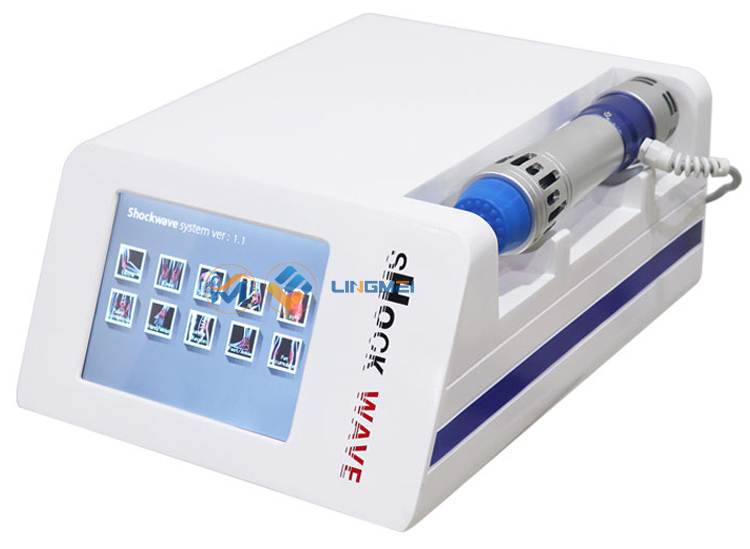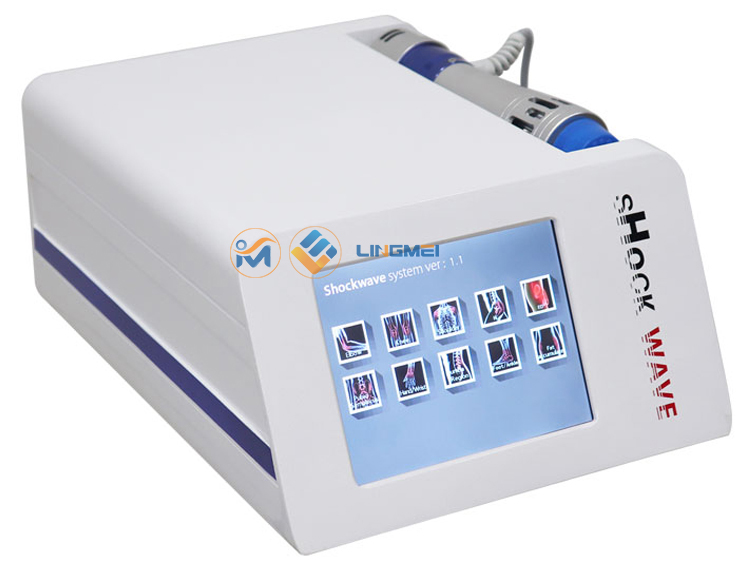 Technical specifications of electroshock therapy for plantar fasciitis:

| | |
| --- | --- |
| Model | SW7 electroshock therapy for plantar fasciitis |
| Input Voltage | AC 100V-230V  50Hz-60Hz |
| Power | 230VA |
| Frequency |  1- 16 HZ |
| Energy |  60 – 185 mj |
| Transducer | DS-4.5D, DS-3.0, DS-1.5 |
| Net weight | 8KG |
| GW | 15KG |
| Packign size (carton case) | 51cm*41cm*46cm |
Extracorporeal pulse activation therapy:
Extracorporeal pulse activation therapy or EPAT, also called extracorporeal acoustic wave therapy or extracorporeal shock wave therapy is a non-invasive medical treatment used for many purposes, including improving skin elasticity, body shaping,treating cellulite, and combating weakness of connective tissue.
Treatment handle:
Treatment: