Product name:Horse shockwave therapy device machine for ed erectile dysfunction for sale price shockwave machine for pain relief
Instruction with horse shockwave:
Shockwave therapy is a multidisciplinary device used in orthopaedics, physiotherapy, sports medicine, urology and veterinary medicine. Its main assets are fast pain relief and mobility restoration. Together with being a non-surgical therapy with no need for painkillers makes it an ideal therapy to speed up recovery and cure various indications causing acute or chronic pain.
Shockwave therapy, also known as Extracorporeal Shockwave Therapy (ESWT), is a clinically proven and highly effective treatment for chronic soft tissue injuries and certain bone conditions.
An extracorporeal shockwave is defined as a non-evasive, non-electrical high energy sound wave that passes through the body via a hand-held probe. The shock waves produce a rapid increase in blood circulation to the target area and will break down fibrous scar tissue which builds up over time, especially with chronic conditions.
After only 3 or 4 treatments with shockwave therapy, over 80% of patients report a reduction of pain and regaining of normal function.
Research is steadily growing for this cutting-edge technology, and the latest reports are confirming shockwave therapy is an effective treatment of soft tissue injuries, pain and certain bony conditions like heel spurs.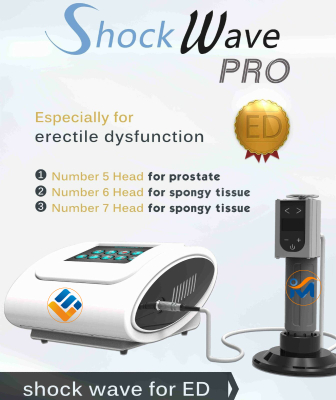 Working handles with horse shockwave: 
both model adjustable frequency:the host screen and digital handle.
digital handle make the operation more easily.
the handle records shoot number.
Don't need the pedal plate.
Match 7 work heads,professional ED heads 2pcs.
the handles and work treatment heads:
What does horse shockwave:
Shockwave therapy can be effective on a wide range of soft tissue and bony conditions. Here are some examples of conditions where shock wave has effectively treated and restored normal function:
1.Plantar fasciitis
2.Shoulder pain, e.g. calcific lesions of the rotator cuff and bony spurs
3.Lateral epicondylitis (tennis elbow)
4.Medial epicondylitis (golfer's elbow)
5.Patellar tendonitis (jumper's knee)
6.Tibial stress syndrome (shin pain)
7.Achilles tendonitis
8.Hip pain
9.Heel pain, heel spurs
10.Chronic neck dysfunction
11.Chronic erectile dysfunction
Advantages of horse shockwave:
1.lightest and most refined
2.new electromagnetic shock wave
3.new digital hand piece with lcd screen.
4.new heads for ED therapy
5.new intelligent programming
Treatment areas with horse shockwave therapy machine:
Technical parameters with horse shock wave machine:
| | |
| --- | --- |
| Model | SW10C horse shockwave |
| Product key | shock wave physiotherapy |
| Voltage | 220V/110V 50Hz/60Hz |
| Energy | 5- 200mj |
| Frequency | 1-16 HZ |
| Work head number | 7pcs,1-7# |
| OEM/ODM | Available |
Real product pictures with horse shock wave ed:
Accessories for horse shockwave therapy machine:
Extracorporeal horse shockwave:
What is extracorporeal shock wave therapy?
Shock wave therapy is a noninvasive method that uses pressure waves to treat various musculoskeletal conditions. High-energy acoustic waves (shock waves) deliver a mechanical force to the body's tissues.
What signs indicate this therapy is needed?
Shock wave therapy may treat conditions such as degenerated tendons (Achilles tendonitis), heel pain (plantar fasciitis) and tennis elbow (lateral epicondylitis).
When should I avoid this therapy?
Complications are infrequent with shock wave therapy. People who have poor sensation (neuropathy) or hypersensitivity in the target area should not have this procedure.  Open sores should also be avoided. Shock wave therapy is not used in patients with heart conditions or seizures. It should not be used during pregnancy. This should be discussed with your physician before undergoing the procedure.
General Details of Procedure
A noninvasive probe is applied to the skin. An electrical charge creates an energy wave that is focused on the area of concern. The shock waves create a force on the tissues that may induce healing. It's not clear why this approach to healing works for some people, but it may be that shock waves cause inflammation and improve blood flow to encourage the body to repair and heal itself.
Specific Technique
Shock wave therapy is an outpatient procedure. A probe is placed on the skin after a gel is applied to help conduct the shock waves. High- or low-energy waves may be used. High-energy waves may cause pain and require a local or regional anesthetic. Low-energy shock wave therapy often is performed without anesthesia. Therapy is more successful with active patient participation where the patient tells the therapist whether or not the probe is at the area of pain. One or more treatment sessions may be needed.
What happens after the procedure?
Patients typically bear weight after treatment. Patients are advised to reduce the level of physical activity for one to two weeks after treatment. Shock wave therapy may give good outcomes for some tendon problems or chronic degenerative conditions.  Examples include Achilles tendinitis and plantar fasciitis.
Potential Complications
The main complications are pain and hypersensitivity at the site of treatment. These problems typically resolve with time. Pain and disability may persist when shock wave therapy is not successful.
Frequently Asked Questions
Is this a substitute for surgery?
Shock wave therapy is a noninvasive treatment that can help avoid surgery. Treatment responses may vary.