Product name:LLLT Low level laser therapy 10D LuxMaster Slim with low 532nm laser Cold Diode Laser therapy Machine
Introduction with luxmaster slim laser slimming machine?
LuxMaster Slim is the latest technology for non-surgical weight loss. It can be done on the whole body, removing even the most stubborn fats. Additionally, it targets multiple regions in the body and not just a single area like other existing fat removal procedures.
The laser emulsifies fatty tissue and releases excess fat deposits into the intercellular space. From here, fat travels through the body during the natural detoxification process through the lymphatic system. This approach allows you to save the patient from extra pounds without surgical procedures or liposuction.
How Does luxmaster slim laser slimming machine Work?
    The Luxmaster Laser uses a green wavelength of light that targets fat cells and opens pores in the membrane of the fat cells. This allows the fatty acids inside to seep out into the interstitial fluid. The fatty acids are then used by the body for energy or transported out of the body via the lymphatic system, the liver and the kidneys.
    Only 50-72 hours after the Laser treatment, the pores in the cell membranes heal and the fat cells are now healthy fat cells.These lasers produce 23% more energy than red lasers, which makes it the safest and most effective way to treat fat. This process balances fat cell hormone responses, which yields lasting results. With Laser treatments, most patients lose an average of 6 inches.
How About Diode Laser Lens with luxmaster slim laser slimming machine?
10 x 532NM true green laser beams to create small transitory pores for the fatty liquids in fat cells to seep out. The fatty liquids are then naturally flushed out through the lymphatic system. The result is that the fat cells shrink instead of being killed.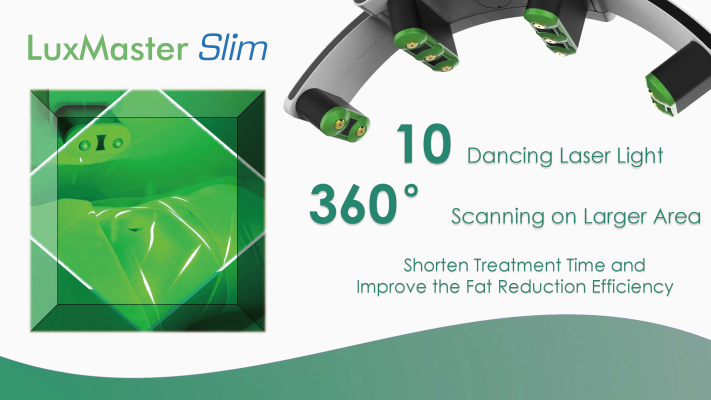 Fat loss in a healthier way:
As the indispensable part of human's endocrine system, fat cells play a critical role in sensing and responding to changes in systemic energy balance and the metabolic cycle. LuxMaster Slim does not kill them like liposuction and cryolipolysis. lt may sound reasonable to kill the fat cells in weight loss but actually it is harmful and has side-effects. When the fat cells are destroyed, the future fat will be stored and accumulated in other area and may cause a symmetric accumulation of fat. LuxMaster Slim opens a new possibility in cellulite reduction. By using the low level laser, fat cells can be shrinked and then consumed as energy and flushed out naturally via the body's lymphatic system when combined with light exercise and sufficient water intake. lt is non-invasive and no side-effects reported.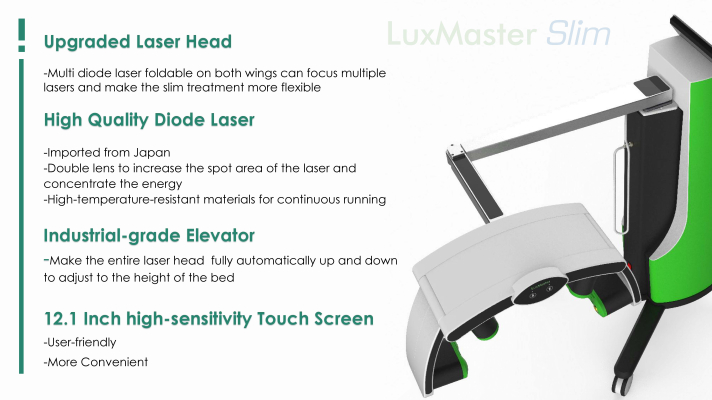 Technical parameter with lllt low level laser therapy luxmaster slim:
| | |
| --- | --- |
| Function | LLLT Low Level Laser Therapy Luxmaster Slim Body Sliming |
| Application | Body |
| Technologies | LLLT |
|  Angle adjustable of laser wings | 100 degree |
| Number of diode | 10pcs |
| Power of diode | 200mw |
| Wavelength of diode | 532nm |
| Power | 120w |
| Voltage | AC110V ~ AC240V |