Introductions with physio magneto:
Extracorporeal Magnetic Therapy transmits high energy magnetic pulses to targeted tissues at extremely high oscillating frequencies ranging from 100–300 kHz. Extracorporeal Magnetic Therapy. Waves can penetrate deep tissues up to 18 cm beneath the skin's surface, to target difficult-to-reach tendons,muscles, bones and nervous tissues. When delivered with the right intensity and frequency,Extracorporeal Magnetic Therapy synchronizes with the body's magnetic fields, causing a disturbance that triggers a regenerative response.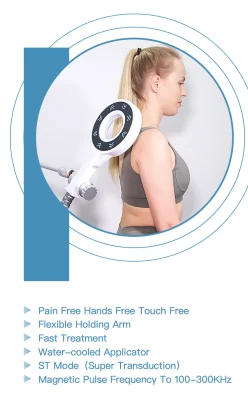 Advantages of physio magneto:
1.As a non-invasive touch-free technology, provides an unprecedented level of patient comfort while delivering powerful and effective results.
2.Patients do not need to undress for treatment sessions.
3.has a broad range of applications for a variety of musculoskeletal conditions.
4.Magnetolith equipment has an articulated arm to allow for hands-free treatment.
5.Therapy sessions are short, lasting from 5-20 minutes.
6.Physio Magneto is easy to maintain and inexpensive to operate.
Applications with physio magneto:
Musculoskeletal diseases
Degenerative joint diseases
Signs of wear and tear, e.g. arthrosis (knee, hip, hands, shoulder, elbow), herniated disc, spondylarthrosis
Pain therapy
(Chronic) pain, e.g. back pain, lumbalgia, tension, radiculopathies, heel pain
Sport injuries
(Chronic) inflammation of tendons and joints, tendon overload syndrome, osteitis pubis
The effectiveness of physio magneto:
1.Reduces inflammation to allow for better penetration of shock waves
2.Improves joint ligaments, cartilage and fluids
3.Activates cellular metabolism in the target region
4.Revitalizes damaged cells
5.Instigates cellular healing
6.Reduces inflammation to enhances muscle firing capabilities
7.Expands the area of treatment
8.Enhances physical therapy outcomes
9.Gives immediate therapeutic results
10.Facilitates ultrasound guided regenerative injections
Technical parameters for physio magneto:
| | |
| --- | --- |
| Model | M6 physio magneto |
| Oscillation frequency | 100-300khz |
| Field strength at the coil | 4T |
| Field strength at 4cm distance | 0.4T |
| Performance of the field | 92T/S |
| Voltage | 100-240v 50/60hz |
| Water cooling system | 2.5L water |
| Dimension | 66cm*60cm*49cm |
| Gross weight | 40kg |