Introductions with 7d hifu face lifting machine:
7D Hifu Machine – Confortable and Fast Treatment
Latest – 2 handles can work together
High quality hifu handle :
With self-induction switch/extreme speed motor
Extreme speed motor for fast shooting
– Fast Shooting every shot for fast treatment to save treament time
– Dual control – treat 2 customers at the same time
7 Different cartridges
Face lifting, Lipo Body slimming & Shaping, Butt & breast lift & strech mark removal, Anti-wrinkle etc .
Shots: 20,000 shots/cartridge . Depth: 1.5mm, 2mm, 3mm, 4.5mm, 6mm, 9mm, 13mm . Frequency: 2MHz / 4MHz / 5.5MHz / 7MHz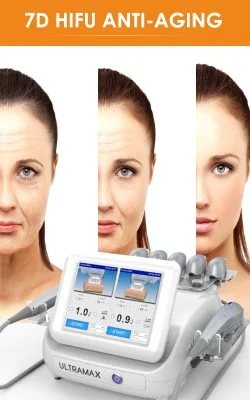 Instructions of 7d hifu face lifting machine:
7D ultramage system has a smaller focus point than other high-energy focused ultrasound devices. With more accurately transmits high-energy focused ultrasound energy at 65~75°C to the target skin tissue layer, which results in a thermal coagulation effect without harming surrounding tissues. While stimulating the proliferation of collagen and elastic fibers, it greatly improves the comfort and give you a perfect V face with the skin plump, firm, and elastic.
Functions with hifu face lifting machine:
The latest 7d ultramage has a total of 7 probes, which are fully carved and anti-aging.
1. Facial probe 1.5mm, 3.0mm, 4.5mm, contour shaping, lifting and tightening, dilution and removal of frown lines, crow's feet, legal lines, double chin, neck lines
2. Body probe, 6mm, 9mm, 13mm, reducing fat and shaping body, removing orange peel tissue&cellulite, tightening and lifting body skin,chest and buttocks
3. The patented 2.0mm probe has a significant effect on stretch marks, growth marks and obesity marks
This is an optimum, non-invasive ultrasound device that lifts and tightens the face for a youthful complexion and tightens the body for slimmer contours. With precision per shot pulse, powered transducers are designed to either remodel collagen to remove facial wrinkles and sagging skin or tighten body tissues to reflect your true potential.
Handles for hifu face lifting machine:
Face Lift & Tighten 
1.5mm, 2mm, 3mm, 4.5mm
Multiple cartridges are customized for shallow layers of the face and address sagging skin, collagen renewal, and absolute wrinkle reduction.
Body Tighten & Contour
6mm, 9mm, 13mm
Macro focused transducers with a larger density and deeper penetration of target the body's subcutaneous layers at 3 different depths to slim contours and remove stubborn fat.
Applications for hifu face lifting machine:
1.Remove wrinkles on around forehead, eyes, mouth, etc.
2.Lift and tighten both cheeks skin.
3.Improve skin elasticity and shaping contour.
4.Improve jaw line, reducing "marionette lines"
5.Tighten the skin tissue on forehead, lifting the eyebrows lines.
6.Improve skin complexion, making the skin delicate and bright.
7.Match with injecting beauty like Hyaluronic acid, collagen, to resolve more aging problem.
8.Remove neck wrinkles, protecting neck aging.
Advantages with hifu face lifting machine: 
1. 20% faster shot speed
2. Slimmer compact design of cartridges
3. Dual engine enables high peak power and less pain
4. Exquisite handpiece mechanism
5. Displayed shot count information for treatment record.

Before and after for 7d hifu machine:
Product pictures with 7d hifu: