Handpieces of cavitation system machine:
1 handle M70 Ultrasonic for fat burning
1 handle 6 polar RF for body fat dissolving,with vacuum for body sculpturing and de-toxin.
1 handle tripolar RF for fat dissolving,facial skin lifting and rejuvenation
1 handle biopolar RF for eyes around skin lifting and tightening
Theory of cavitation system machine:
The equipment takes the strong ultrasonic heads to release 40,000Hz powerful ultrasonic, speedy  vibrates fatiness cells, produces countless vacuum air pocket in and out of cells, mightily impacts the fatty cells, makes the cell membrane produce the inner cracking, so as to dissolve the triglyceride to be the glycirin and free fatty acid. Then then takes the power of RF wave with 1MHZ, to do deep-seated skin Diathermy, supply the skin oxygen and organic nutrition, strengthen cells function, advance the blood and lymph circulation, activate metabolism, remove and soften the cellulite, so get the body slimming and beauty effects.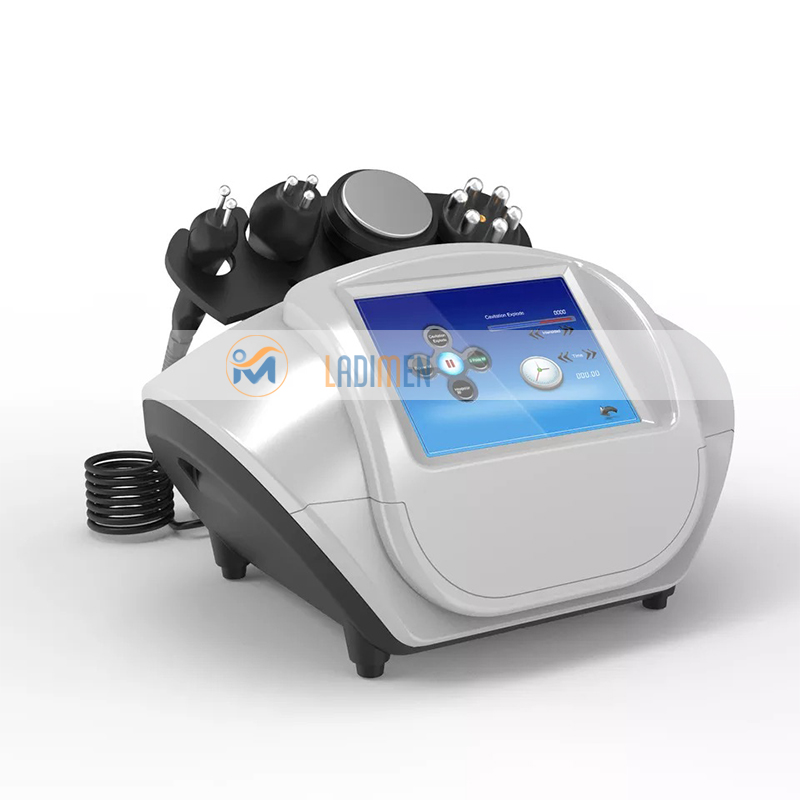 Features of cavitation system machine:
1. Painless treatment focus RF energy at the correct position, compared to other radio frequency technology. RU+6 uses low energy and high frequency, safe and effective
2. Aim at the skin surface and deep location, using a complex method to control the different urrents and energy, direct access to the different skin layers, the effect is visible
3. Selectively targeting fatty tissue, to avoid heating other fat, to achieve the fastest treatment effect
4. With the most useful 40kHz ultrasonic cavitation system
5. Color touch screen
Functions of cavitation system machine:
1. Replacing and sumouning the surgery of attracting the fat;
2. Tightening the flaccid skin;
3. Promoting the speed of organism metabolism and accelerating the waste and the moisture extraction of the body;
4. Reparing striae gravidarum;
5. Relaxing themuscies, relieving the muscle spasm and alleviating the ache symptomof muscles;
6. Losing weight of the whole body.