Product name:SFR MFR tips Frozen Massage Wrinkle Removal MR18-2S Machine Micro Needle rf fractional microneedle equipment price

Working principle of micro needle RF:
Fractional RF needle system through the special design of many fractional needle point array, the high speed digital motor controls order through the epidermis and the dermis accurate to control the depth of 0.25-3 mm,again by the end of lattice needle release RF,stimulate collagen and elastic tissue,and is not themal damage skin layer potentical.When skin tissues through this process,the epidermal layer is safe,RF energy can well to penetrate to the dermis,stimulate collagen protein hyperplasia,not only is the best way to improve the scars,but also long-term tightening skin wrinkles induced the good method. Cryo helps SRF and MRF play its function.
More pictures of rf fractional microneedle: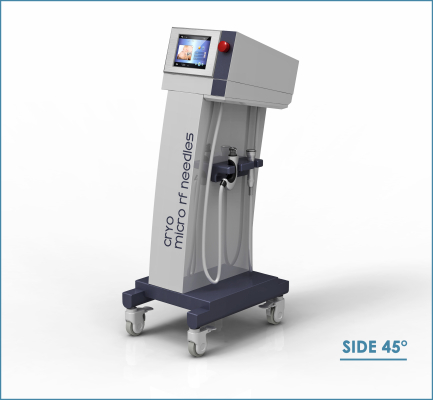 Features of rf fractional microneedle equipment:
1. Easy to control the needle into the depth,agile adjustable
2. Superficial fractional RF and microneedle fractional RF hand stick hand bar
3. The allocation of 25 pin,49 pin and 81 pin replaceable type RF needle head
4. The allocation of replaceable type RF point array work head
5. RF energy fine adjustable
6.  MRF+SRF+PDT+CRYO
7. The mature stable eight inches of true color liquid crystal display output and input system
8. Configuration sellers market plan management system

Functions with rf fractional microneedle:
1. Improve pores,scars,deep wrinkles,acne,pigment calm.
2. It makes the skin smooth,tighten pores
3. It has a minimum of pain and provide accurate energy
4. Minimally make even less epidermal damage
5. It makes the RF direct penetrate to the target erea,in order to obtain a sufficient effect.
6. Scar removal-including acne scar reduction
7. Applies to:stretch marks,anti-aging,anti-wrinkle treatment,hair loss/hair restoration, Hyperpigmentation treatment.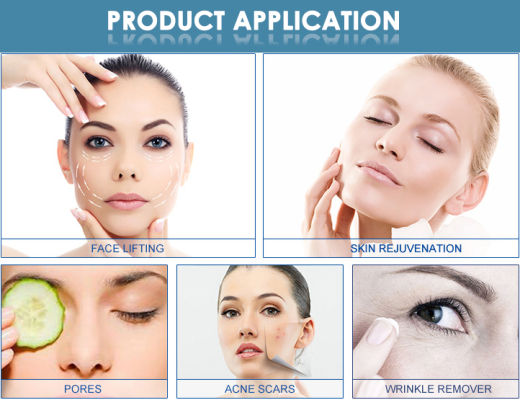 Parameters of rf fractional microneedle:
| | |
| --- | --- |
| Model | MR18-2S |
| Type | MRF+SRF+PDT+CRYO |
| Input voltage | 220V-50HZ,AC 110V-60HZ |
| Input power | <500W |
| Output frequency | 1.6MHZ |
| Output wavelegth | PDT 650nm |
| Minimum cryo temperature | -5 degree |
| Appearance specifications | 480*295*1060mm |
| Weight | 30KG |
| Ambient temperature | -40—-55 degree |
| Relative humidity | ≤ 93% |
| Atomospheric pressure | 50KPA-106KPA |
What is the Liftron?
48 microneedles can be inserted from the epidermis to the dermis and generate RF energy to stimulate the fibroblaste in the dermis effectively to improve the elasticity of the skin and wrinkles.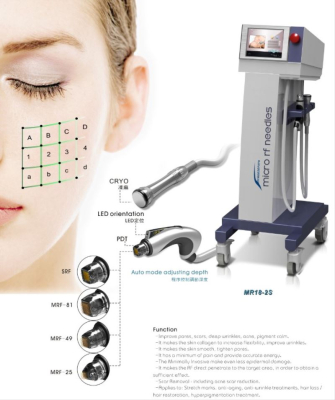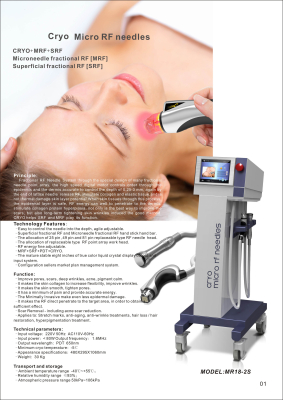 Handpiece:
Convenience for user
Minimize pain for treatment
Convenient control of the depth of the microneedle
Insulated needles for epidermis
without any thermal damage
Convenient replacement of the Microneedle tip
car goes away quickly
Effect:
Microneedle(Stamping Effect)
This is perceived by the skin as damage, which triggers the release of growth factors that trigger the production of collagen and elastin.
RF Effect:
Radio Frequency can be penetrated to dermis without any damage to the epidermis therefore elastic skin can be made in a short time.
Combination Therapy:
Can be combined fractional RF with another laser treatment at the same day.
Treatment resuts: