Professional 2 In 1 Hifu 4d 5d 8d 7d 3d Hifu Skin Lifting Microneedle Wrinkle Removal Gold RF fractional hifu
What is 4D HIFU?
4D is the meaning of the three dimensions, this 4D refers to the development of technology in three dimensions of innovation.The number of rows is multi-dimensional, the traditional HIFU shot once only can get 1 line, so it will be a little toublesome to do body weight loss. But 4D HIFU can be freely adjusted from 1-12lines.Treatment of parts and regions are multi-dimensional:facial wrinkles, chest pulling,body weight loss.
Adjustable parameters are multidimensional: the distance between points and points, the distance between rows and rows. The energy of each point. The length of each line. These can be adjusted.Treatment is more precise and free.
Skin Tightening
High Intensity Focused Ultrasound (HIFU) directly delivers heat energy to skin and subcutaneous tissue that can stimulate and renew the skin's collagen and thus consequently improving the texture and reducing sagging of the skin. It literally achieves the results of a facelift or a body lifts without any invasive surgery or injections, moreover, an added bonus of this procedure is that there is no downtime.
This technique can be applied to the face as well as the whole body, and also, it works equally well for people of all skin
colours, in contrast to that of lasers and the intense pulse lights.
Body Slimming
Apply high intensity focused ultrasound, generate focused energy and go deeoer into the cellulite to break cellulite. it is an
invasive, impressive and long- last effective tratement to reduce fat, especially for abdomen and thigh. High intensity focused ultrasound target at fat of 13mm(depth of penetration), heating up the fat tissue, combine with high energy and good penetration to resolve the fat, during the treatment, the triglyceride and fatty acid excrete by the process of metabolism, and the vessal and nurve will not be damaged.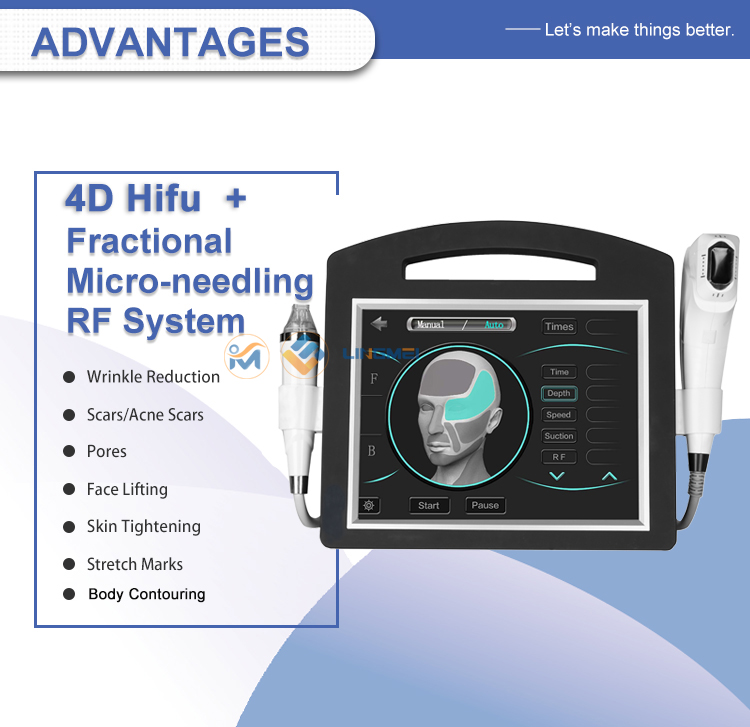 What is Gold rf microneedling:
Gold RF Micro-needle Machine combines Microcrystal minimally / High temperature RF/ Transdermal absorption technologies. It penetrates the skin with an electro-optical micro-crystal probe with gold coating.It releases 6 million times of high-temperature gold RF energy per second, stimulates the skin fibrous tissue and collagen generation, and makes the face clean, smooth and firm as young as possible.
Fractional RF Needle System through the special design of many fractional needles point array, the high speed digital motor controls order through the epidermis and the dermis accurate to control the depth of 0.25-3mm, again by the end of the lattice needle release RF, stimulate collagen and elastic tissue, and is the epidermal layer is safe, RF energy can well to penetrate to the dermis, stimulate collagen protein hyperplasia, not only is the best way to improve the scars, but also long-term tightening skin wrinkles induced the good method.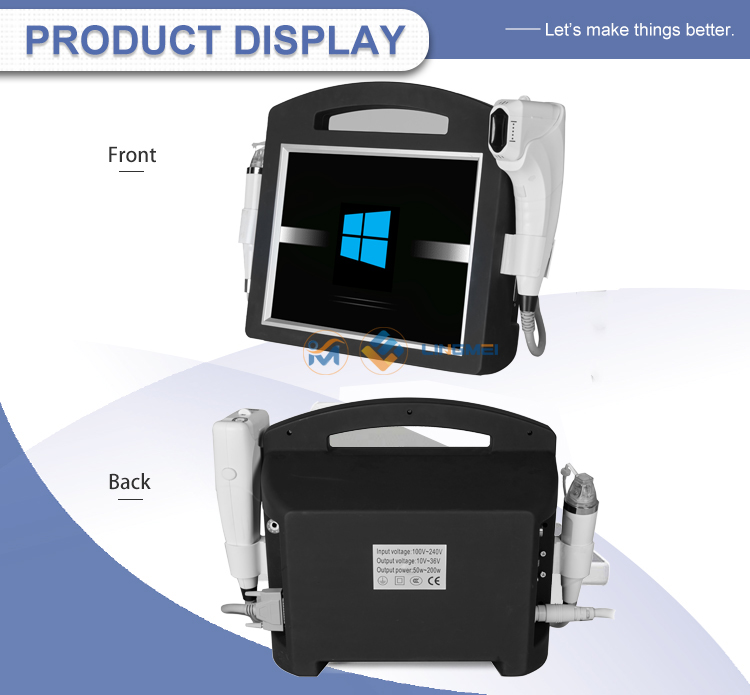 RF fractional hifu:
4D HIFU:
1. Remove wrinkles on around forehead, eyes, mouth, etc.
2. Lift and tighten both cheeks skin.
3. Improve skin elasticity and shaping contour.
4. Improve jaw line, reducing "marionette lines"
5. Tighten the skin tissue on forehead, lifting the eyebrows lines.
6. Improve skin complexion, making the skin delicate and bright
7. Match with injecting beauty like Hyaluronic acid, collagen, to resolve more aging problem
8. Remove neck wrinkles, protecting neck aging.
GOLD RF:
Face Treatment
1.Non-surgical Face Lifting
2.Wrinkle Reduction
3.Skin Tightening
4.Skin Rejuvenation (Whitening)
5.Pore Reduction
6.Acne Scars Removal
7.Blood Vessel RemovalBody Treatment
1.Scars Removal
2.Hyperhidrosis
3.Stretch Marks Removal
4.Spider Veins Removal (Veincure Option)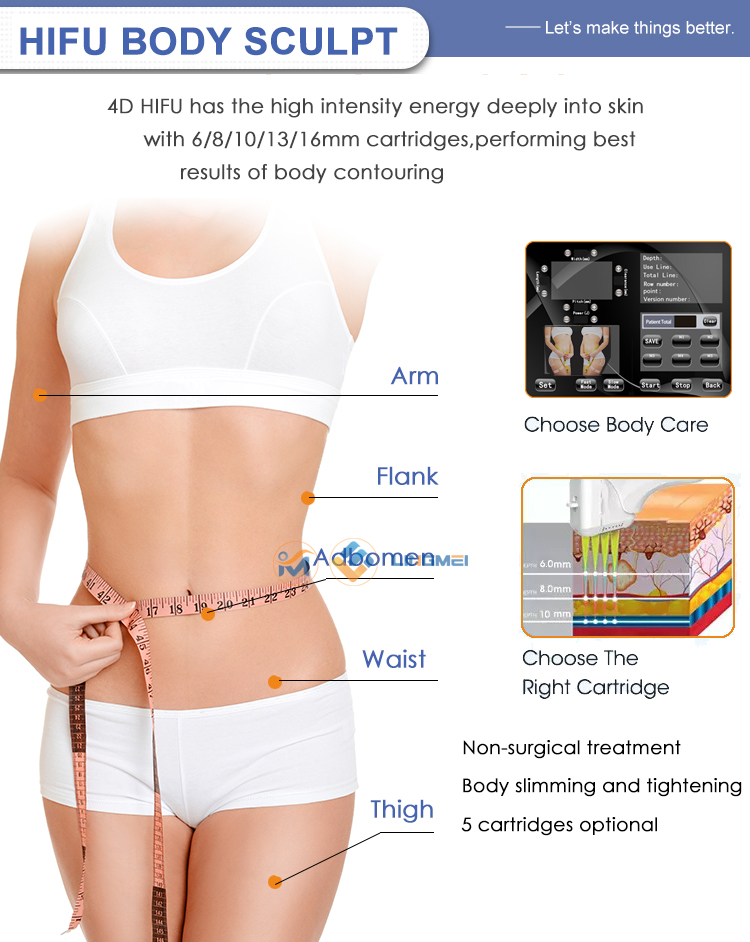 Effect contrast for RF fractional hifu:
Professional 2 In 1 Hifu 4d 5d 8dn7d 3d Hifu Skin Lifting Microneedle Wrinkle Removal Gold RF fractional hifu

| | |
| --- | --- |
| Product name | RF fractional hifu |
| Number of Handles | Dual Handles, one HIFU handle, one Gold rf handle |
| Target Area | Face, Body, Neck/Throat, Legs/Arms, Other, Hands |
| Operation System | high intensity focused ultrasound |
| Feature | Skin Tightening, Wrinkle Remover, Anti-aging, Other, Skin Rejuvenation, Firming, remove stretch marks |
| Gold rf tips | 4 tips,10 pin,25 pin,64 pin,nano |
| 4d hifu cartridges | standard configuration:3.0mm,4.5mm;  1.5mm,6mm,8mm,10mm,13mm,16mm optional |
| Out frequency | 1mhz-7mhz |
| output power | 200w |