How does our EMS Neo Sculpting emslim work:
EMSlim nova is the next generation of muscle building and fat reducing technologies. It is certificated-cleared for the breakdown of fat, reduction in abdominal/waist circumference, strengthening and tone improvement of the abdomen, and firming of buttocks, thighs, arms, and calves. It is a no downtime, pain-free, nonsurgical means of building muscle and burning fat.
EMSlim nova creates supramaximal muscle contraction – this is a level of muscle work beyond what is possible through physical training, yielding better muscle tone and enhanced fat metabolism. Sculpt nova results are backed by 7 clinical studies that consistently demonstrate 30% fat loss, 25% muscle mass gain, 19% reduction in abdominal separation and a 5.9 cm (2.3 inches) reduction in waist circumference.
Working Principle with EMSlim Neo Sculpting emslim:
Using HI-EMT (High Energy Focused Electromagnetic Wave) technology to continuously expand and contract autologous muscles and carry out extreme training to deeply reshape the internal structure of the muscle,that is, the growth of muscle fibrils (muscle enlargement) and produce new protein chains and muscle fibers (muscle hyperplasia), so as to train and increase muscle density and volume.
The 100% extreme muscle contraction of HI-EMT technology can trigger a large amount of fat decomposition,Fatty acids are broken down from triglycerides and accumulated in fat cells.The concentrations of fatty acids are too high ,causing the fat cells to apoptosis, which is excreted by the body's normal metabolism within a few weeks. Therefore, slim beauty machine can strengthen and increase muscle, and reduce fat at the same time.
Emslim nova does everything EMSlim does and more. It builds off the legacy of its predecessor, EMSlim, but uses more powerful
HI-EMT technology and has added radio frequency. It's certificated approved to:
1.reduce fat by 30%
2. increase muscle by 25%
3.improve muscle separation (Diastasis Recti) by 19%
4.up to 35 BMI
Additionally, the radio frequency tightens the skin. If you only want to gain muscle without losing fat, the emslim nova can be programmed to do just that! Because the emslim nova technology is more advanced, it will help you achieve better results than the EMSlim. Whether you want to lose weight, gain muscle, or both, the EMSlim will help you achieve your body sculpting goals.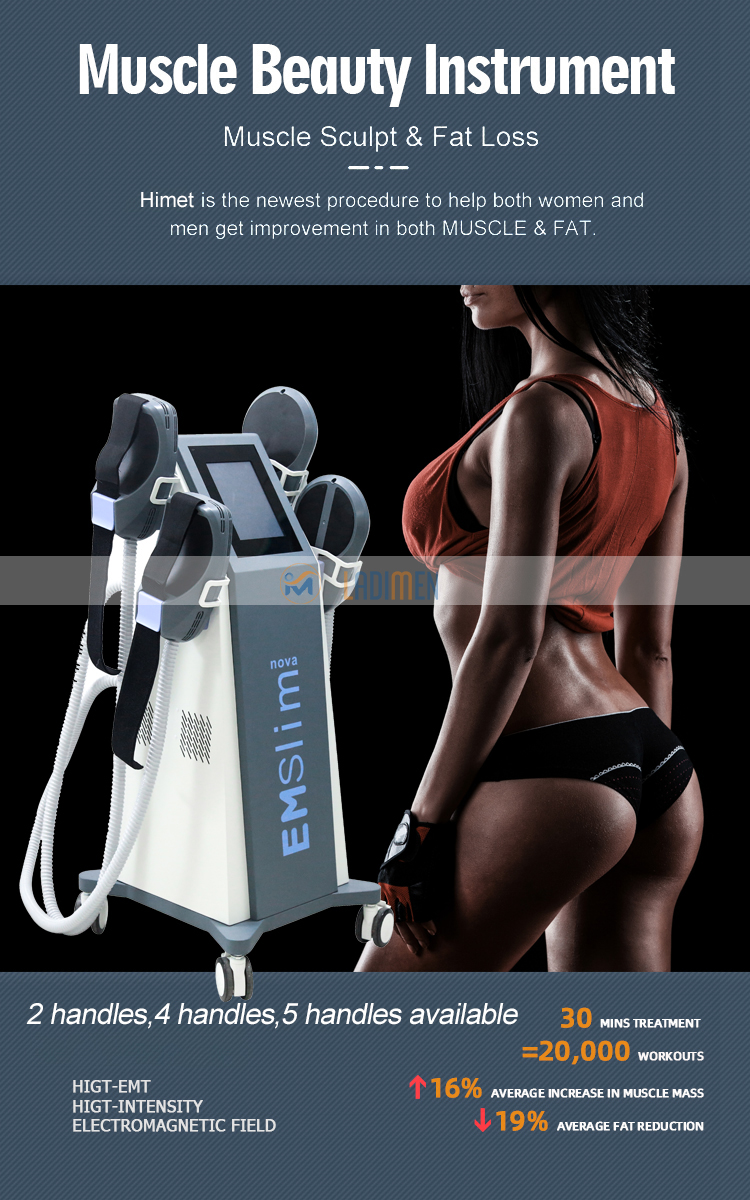 Features with EMSlim nova:
* Builds muscle & Burns fat Together!
* Non-invasive buttock lifting procedure
* Suitable for everyone – No anaesthesia – No surgery
* Only a 30 minute walk in walk out procedure
* Only 4 session needed 2-3 days apart
* Feels like an workout
* Safe with No downtime
* Instant results but gets better after two to four weeks
* 16% average increase in muscle mass
* 19% on average fat reduction