Product name:Shock Wave Smart Tecar Pro Back RF Shockwave Therapy Ultrasound Physiotherapy Ultrasound Ultrawave Ret Cet Machine
Tecar pro with tecar shock wave therapy machine:
The energy is much more competitive in the beauty market.
Tecar pro has ED treatment function and fat removal function.
The design is much better and beautiful. There is the screen in the handle, and the button in the handle, more  advanced.
Popular in salon and clinic
Tecar therapy instruction:
Tecar therapy is a part of Endogenous Thermotherapy, which is based on the principle of capacitive and resistive energy transfer (Capacitive-Resistive Diathermy). And It has an effect within the biological tissues, activating the body's natural repairing and anti-inflammatory processes from within.
Ultrasound therapy instruction with shock wave therapy machine:
Ultrasound therapy causes mechanical vibrations, from high frequency sound waves, on skin and soft tissue via an aqueous solution (Gel). A gel is applied either to the applicator head or to the skin, which helps the sound waves to evenly penetrate the skin.
The ultrasound applicator converts power from the device into acoustic power that can cause thermal or non-thermal effects. And The sound waves creates microscopic stimulation in the deep tissue molecules that increases heat and friction. The warming effect encourages and promotes healing in the soft tissues by increasing the metabolism at the level of the tissue cells.
Shockwave for sport rehabilitation muscle recovery machine:
Shockwave is an acoustic wave which carries high energy to painful spots and skeletal tissues with subacute, sub chronic and chronic conditions. The energy promotes   regeneration and reparative processes of the bones, tendons and other soft tissues.
More pictures with Smart Tecar Pro shock wave therapy machine: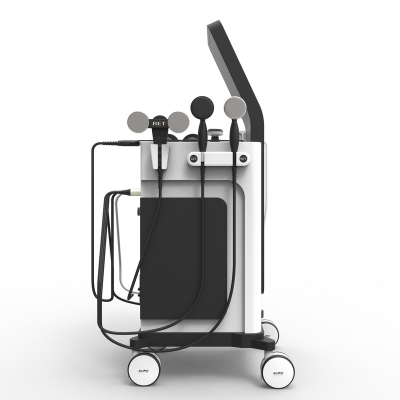 3in1 tecar pro operation handles for Shock Wave Therapy Ret Cet Machine:

Advantages for this Shock Wave Therapy Tecar Ret Cet Machine:
1.Pneumatic shockwave therapy & electromagnetic shockwave therapy
2. High effectiveness, fast relieve pain.
2.Noninvasive, no anesthetic, convenient and fast
3.Each nursing only 20 minutes, 5-10 nursing each session.
4.Widely applied to different soft tissue treatments.
5. Digital handle adjust the frequency and energy
6. Smart C mode and P mode for choice
7. Display real temperature and total impact counter
And Shock wave therapy machine functions:
1.Pain relief, pain reduce
2.Sport injuries
3.Cellulite treatment, body slimming
4.Erectile dysfunction(ED) treatment
Shock wave therapy machine functions:
1.Pain relief, pain reduce
2.Sport injuries
3.Cellulite treatment, body slimming
4.Erectile dysfunction(ED) treatment
Treatment pictuers with diatermia Indiba tecar:
Technical parameter:
| | |
| --- | --- |
| Item | Value |
| Place of Origin | China |
| Brand Name | LINGMEI factory |
| Model Number | Tecar Medical shockwave therapy erectile dysfunction ed |
| Instrument classification | Class III |
| Warranty | 2 years |
| After-sale Service | Online technical support |
| Shockwave Energy | 6 Bar |
| Shockwave Frequency | 1-21Hz |
| Frequency | 1Mhz |
| Ultrasoud Max Power | 3w/cm2 |
| RF Frequency | 300-450KHz |
| Tecar Head Sizes | 20/40/60 MM |
| Screen | 10.4 inch Touch Screen |
| Power | 300W |
| Packing Dimension | 58*52*125 cm |
| Gross Weight: | 65KG |