Product name:Most Popular And Welcomed Korea hifu 9d cold frozen hifu machine / 9d ice hifu ultrasound face lift machine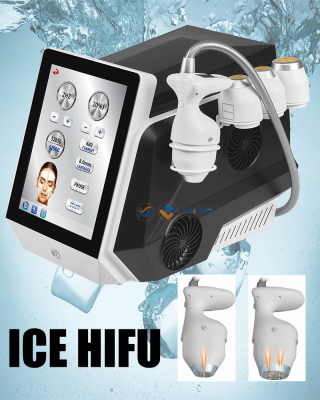 Introduction with ice hifu 9d:
ICE HIFU is an advanced semiconductor refrigeration+
the high-intensity focused ultrasound (HIFU) technology is integrated, and with the innovative introduction of freezing point, it can effectively reduce the risk of "burning" of tissue or epidermis, making the efficacy safer and more comfortable.
ICE HIFU It makes up for the restricted area of single-row/multi-row fixed-point operation with a sliding operation method, and its painless and fast characteristics are very popular. A new breakthrough in comfort and depth. It offers 9 different depths
(1.5mm/2.0mm/3.0mm/4.5mm/6.0mm/8.0mm/10mm/13mm/16mm) replacement therapy probe, the probe has built-in double and quadruple ultrasonic slices, one shot simultaneously transmits "two "or "four" energy points, the respective focal points of the emitted ultrasonic waves are formed at different positions, the action area is wider, the operation speed is faster, 2-4 times faster than the traditional HIFU, and the ICE HIFU is compared with the traditional single ultrasonic technology.
The instrument can achieve the ideal effect of customization.7d korea hifu  uses the power of High intensity focused ultrasound to safely lift and tighten skin. High intensity focused ultrasound is a form of energy that is significantly different than light such as IPL and Lasers or Electrical (Radio-Frequency) energy. HIFU, protects the skin surface, whilst precisely penetrating at deeper depths and higher temperatures than Radio Frequency for example, treating beyond the Dermis and Foundation layers, where structural weakening starts.
Tissue at the target point is heated to 65°C, Thermal Heat is created with the skin tissue creating both spaced 'wounds' and cellular friction – which in turn promotes healing, immediately contracts collagen and stimulates a rapid production. Over the next 90-180 days, the wound-healing response stimulates long-term tissue and leads to further lifting and tightening, with results that can last years.
HIFU also helps to improve the tone and all the features of your face such as your eyes, cheeks, mouth, chin and skin also making it a viable alternative to Botox, with the benefit of being able to maintain facial expression. Excellent for post surgical face lift to maintain the lift and treat blood stasis, scarring, and numbness.
Functions with 9d hifu ice hifu:
1. Remove wrinkles on around forehead, eyes, mouth, etc.
2. Lift and tighten both cheeks skin.
3. Improve skin elasticity and shaping contour.
4. Improve jaw line, reducing "marionette lines"
5. Tighten the skin tissue on forehead, lifting the eyebrows lines.
6. Improve skin complexion, making the skin delicate and bright
7. Match with injecting beauty like , collagen, to resolve more aging problem
8. Remove neck wrinkles, protecting neck aging.
9. Body fat removal and slimming
Advantages with 9d hifu ultrasound face lift machine:
1. The introduction of innovative semiconductor freezing point, technology that provides excellent safety and skin cooling protection.
2. The flexible sliding operation of frozen HIFU, the whole process feels cool first and then slightly hot, and there is almost no pain.
3. The innovative frozen HIFU technology is superior to the traditional conventional single HIFU technology. CryoHIFU treatment is a safe and effective, faster and painless method with the same effect. Treatment only takes 20-30 minutes without any downtime.
4. One shot fires 2 and 4 points at the same time, and the efficiency is increased by 2-4 times. Delivers 500 shots in just a few minutes, providing painless comfortable treatments and ultra-fast treatment times.
5. The cooling function treatment is safer, cool and comfortable, and the whole process is painless.
6. According to the connection of each probe, the system will automatically identify the treatment site of each probe.
7. One 'press' and one 'an' probe are easy to replace, plug-and-play plug-in probe, safe and convenient.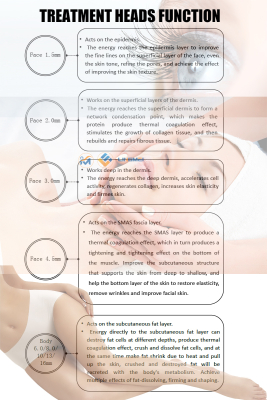 Cartridges treatment test for frozen ice hifu:
Product details for 9d ice hifu ultrasound face lift machine: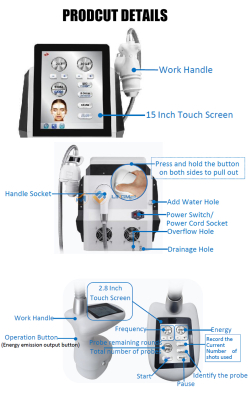 Operation steps:
1.Clean the Skin.
2.Take a photo before treatment , and paint on the preoperative lifting location with make – up pencil .
3.According to the skin thickness to select appropriated transducer (Tranmitter) .
4.Set suitable input intensity ( such as1.0-1.5J ) , focal length and spacing ( such as 1.5mm)
5.Applying ultrasonic plentiful gel as couplant between transducer and skin.
6.face lifting operate on the note of power line, forming a line thermal condensed node in the specified depth under skin when the transmitting button is pressed per time,operating continued on the powder line until the specified location transmission is completed. The treatment parts such as face, chin and both sides of neck.
7.don't operate on marginal mandibular nerve and supra or bital nerve.
8.no recovery period after treatment,daub some moisture product and make up immediately.
9.only once, the comprehensive effect will gradually appear in two or three moths,Some people may do this treatments several times.
Before and after with 9d Cryo HIFU: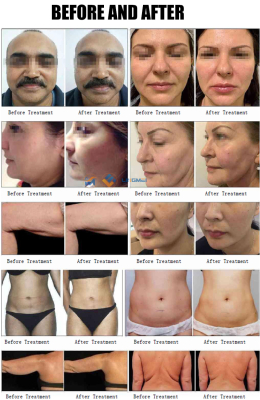 Technical parameters with ice hifu ultrasound face lift machine:
Energy Source

High Intensity Focused Ultrasound

Shot lifetime

62000 shots

Energy

0.1-2.0 J (0.1 step)

Line Length

5-25 mm (1mm step)

Spacing

1.0-2.0 mm(0.1 step)

Pitch

1.0-2.0 mm(0.1 step)

Cartridges

1.5mm,2.0mm,3.0mm, 4.5mm, 6.0mm,8.0mm,10mm,13.0mm16mm

Stander: 2.0mm,3.0mm, 4.5mm,13mm

Electrical

AC 100~240Vac, 50/60Hz

Package size

64*47*67cm
Gross weight
33kg